Eventing Wristwatch
A must-have for any event rider striving for optimum time. Suitable for training at home, in or around water or in eventing competition by competitive riders!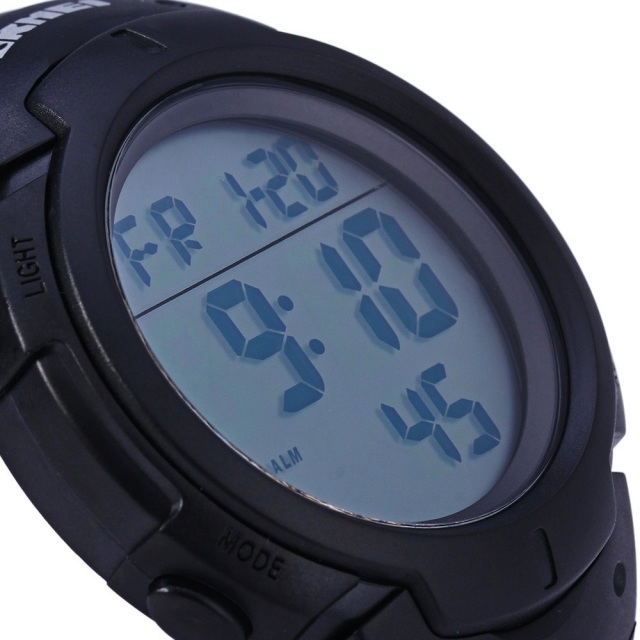 Eventing Wristwatch with Stop-Watch Timer - Black
Recommended Retail NZ $120.00
Eventing wristwatch with stopwatch timer. 
This durable, large-faced watch is a brilliant size for event riders striving for optimum time, making it easy to see where you're at time-wise on the cross country course; even if you're traveling at speed and need two hands on the reins. 
The large, clear screen

is extremely hard and pressure tolerant. Clearly shows the

 easy-to-read digits, with no background 'clutter' on the screen, enable easier time keeping, while using the clock or the stop-watch timer. Perfect for glancing down to check your time while out on the track. 
The stainless steel back provides better water resistance, making the watch water proof to 50m, so it's fine for water jump training, or while exercising/condition-training your horse on the beach or near water. 
The durable band is made from high quality German resin to last longer, while being soft and comfortable. The fitted Japanese battery is accurate to within seconds per month.
Full Range of colours available: 
> Black 
> Black with green 
> Black with blue 
> Black with red 
> Titanium 
> Gold 

​
> Army Green
Size of band allows for smallest fitting of 17cm and largest fitting of 22cm. 
> Large 4.8cm diameter screen 
> Stop watch 
> 50m water proof 
> LED light-up screen 
> Displays date, day & month 
> Alarm 




"I love my watch, the screen is big and really to easy to read. At the starting box, when my horse is getting hyped up and ready to run the XC, the stop watch button is on with the press of a button, and once we're off I can keep track of our time, even at speed!"
Christine Armishaw - event rider, North Canterbury, NZ