A Beval: The perfect bit for a lttle more brakes & control.
Beval Bits are an intermediate type of elevator Bit. It offers a step-up from a standard loose ring action, for a touch more in the way of 'brakes' & control, but is less severe than a gag  (eg. Continental 3-ring gag or Dutch gag; both of which certainly have their uses!).  With one of these you can opt for just the right amount of poll pressure for your horse.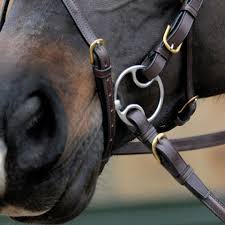 Quick Overview:
Full stainless steel Bit

Double jointed mouth piece

Centre lozenge link

Loose ring with fixed rein positions

2 leverage options: choose to set reins at middle of ring for less leverage, or at fixed point at bottom of ring for more leverage.

Excellent intermediate leverage Bit.
Avaliable NOW is size 4.5", 5", 5.5" and 6"
.
Want something a little different? 
You should try out our Unicorn Rainbow Bits!
Quick Overview:
Double jointed mouth piece

Lozenge style link

Eggbutt cheeks

Titanium coated stainless steel

Excellent soft/kind Bit
Titanium coated bits are tough (don't chip or wear off) and
look incredible! 

The benefits to your horse make this Bit a great choice:
Titanium acts in a similar way to copper in the horses mouth

Sweet-tasting

Warming

Promotes salivation and softness

Encourages the horse to be "more accepting of the Bit contact..."

...and "softer in the rider's hand"

Plus the kind double jointed mouthpiece design makes for a comfortable fit for your horse's mouth, encouraging excellent results, while looking fabulous! ...read more.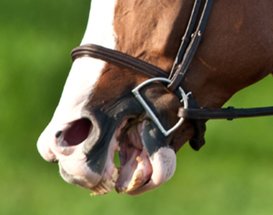 Single-joint snaffles can cause lots of problems for your horse